General Information
---
Im Hotel Kongress in Leoben hat man sich sehr um Barrierefreiheit bemüht.
Das Zimmer mit der Nummer 104 wurde ganz auf die Bedürfnisse von behinderten Menschen zugeschnitten:
So befindet sich zum Beispiel ein tastbarer Plan vor dem Zimmer zur Orientierung im Hotel, das Guckloch bei der Zimmertür wurde auf eine für Rolli-fahrerinnen und –fahrer angenehme Höhe angebracht, es ist ein Lichtwecker vorhanden, und neben dem Bett befindet sich ein Kasten, in dem ein Sauerstoffgerät bequem Platz findet. Die verschiedenen Funktionen des WCs sind mit einer Fernbedienung ansteuerbar, es gibt ein höhenverstellbares Waschbecken, und die Dusche hat zusätzlich eine Infrarotfunktion.
Von der öffentlichen Tiefgarage aus ist das Haus am Hauptplatz barrierefrei zugänglich.
Blinden- und Assistenzhunde sind willkommen.
Analyse im März 2016
Öffnungszeiten
---
Preise
---
Getting There
---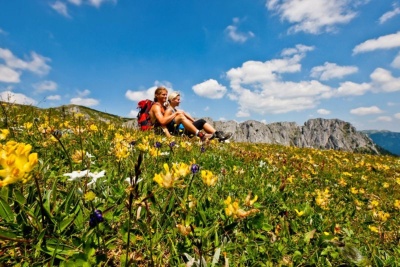 Upper Styria is the northeastern region of Styria and THE water region. It is the state in which the mountain springs that provide water for the whole of Vienna and half of Graz have their source. It is the state in which the terms variety, pleasure and recreation mean something; whether it is a nice hike, a mountain tour or a dip in the crystal clear lakes. The choices range from the good old summer holiday to a wide range of winter and summer sports to cultural highlights and "well-being spots" - quite simply, refreshingly natural!